We are present in all ports of
the CANTABRIAN COAST and NORTHERN PORTUGAL
José Luis Correa Kessler is present in all the ports of the Cantabrian Sea and the north of Portugal with our own plants in the port of A Coruña and the port of Celeiro (Lugo – Spain).
Our facilities are completely automated and computerized to provide a rapid response to the demands of our clients. All our plants are fully refrigerated so that our fish and shellfish don't lose even the least amount of quality during the processing.
Another important feature to highlight inside our processing plants is the exhaustive quality control of all the fish and shellfish from the moment of capture until arrival to our clients.
A Coruña
The company possesses a plant of 2000 m2 strategically situated in the fishing port of A Coruña. The organization is divided into 3 departments:
Sales of fresh fish and shellfish and frozen fish for export and import.
Auction house. The auction of Galician fish and shellfish is held in the port of A Coruña.
Management of fishing boats. We support our own fishing boats as well as charter boats, having experienced staff on land and a plant fully prepared to provide all services to the boat owners.
Celeiro (Lugo)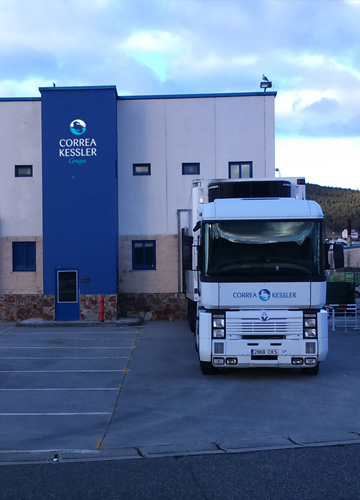 The port of Celeiro is one of the primary ports of Spain along with the Port of Burela, specializing in loads of fish such as line- caught hake, seiner fish, and Albacore.
We possess a double warehouse in the port of Celeiro where we receive and process the fish from this port and port of Burela.